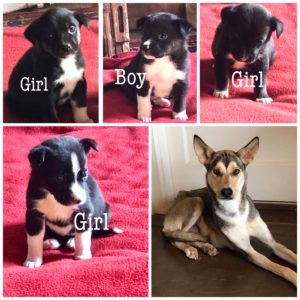 Puppy season has come early this year with a record number of abandoned and homeless animals in and around Comanche County in need of rescuing.  Since the first of January CAPA has taken in 31 dogs, 26 of which are puppies.  This same time last year CAPA only took in 17 animals.  We are seeking foster homes for temporary placement of animals until they are adopted or are transferred to another rescue.
A Heartbreaking example of abandonment came to light last weekend when a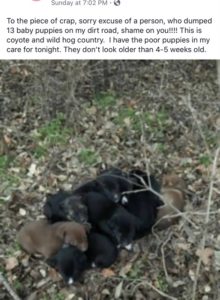 group of 13 puppies were discovered by a woman out in the country along a dirt road.  There were 11 puppies about four or five weeks old and two older puppies that were a few months old.  A few miles away an emaciated female dog was found by a different woman along highway 6 between De Leon and Dublin.  It was obvious this female dog had recently been nursing puppies and was still full of milk.  Both people posted their discoveries on Facebook and before too long the pieces of the puzzle started to come together.  The two women eventually connected and the 11 puppies were taken to meet the momma dog.  It was immediately obvious that the momma dog recognized her puppies and was so happy and relieved.  Because the momma dog was so emaciated it was decided that she should not try to nurse 11 puppies so the four smallest puppies stayed with mom and the seven other puppies are still with the woman who found them.  CAPA was alerted to the situation and agreed to take the puppies into our program.  We are hoping to get this family into another larger rescue or multiple foster homes so the there are only a few puppies per foster home so that it is not overwhelming for the foster family.
CAPA is also reaching out to other rescues in hopes of transferring several animals to larger rescues who can more easily get them adopted.   With only a few adoptions per month we know that with 26 puppies and counting, we will not be able to adopt out enough puppies before they are grown.  The bigger and older the puppies get the harder they are to get adopted.  We want to get them to rescues in larger cities who do a larger volume of adoptions than what we are able to do in Comanche County.
If you are interested in helping these homeless animals there is always plenty for volunteers to do.  CAPA is always in need of good foster homes and anyone interested can go to our website and complete a foster application.   If fostering isn't for you, we also need people to help transport animals sometimes locally such as to vet appointments and other times they need to go as far as Austin or the DFW area. We also need volunteers to help with meet and greet events and fundraising events.  Of course we can always use donations as well and with this many animals in our care our vet bills are likely to be quite large. 
CAPA is a 501c3 non-profit dedicated to helping the unwanted and homeless animals in and around Comanche County, Texas.  To learn more about CAPA or see animals in need of fostering or adopting you can visit our website or follow us on Facebook.